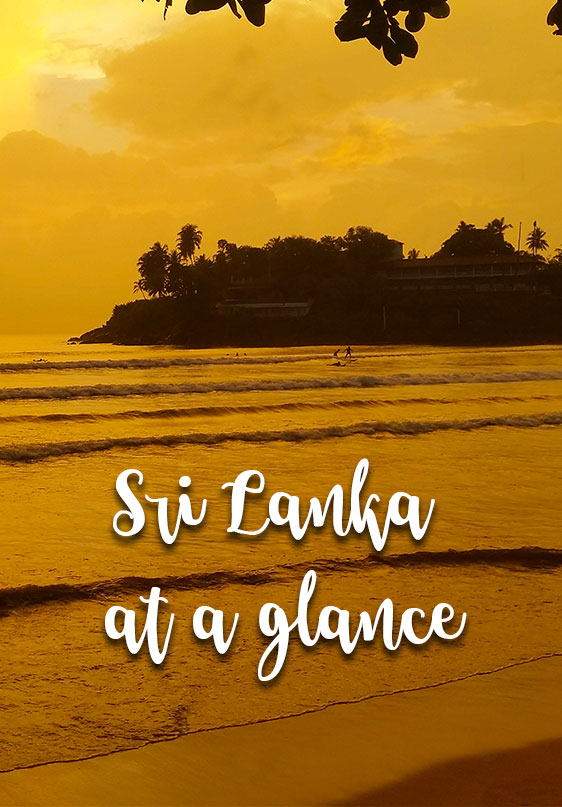 SRI LANKA AT A GLANCE
Enjoy the goodness of the local culture and the freshness of the tropical weather as a tourist in Sri Lanka with dedicated transport, awesome hotels, buffet dinners and lovely people! Expect 8 different days full of excitement and joy! You will spend the 7 nights in 7 wonderful places around the island! You will have exciting places to visit between the transfers and hear interesting stories from the history and about the local culture on the drive!
Tour summary; You will be transferred to your hotel in Negombo (20 minutes) soon after the arrival. You'll enjoy the colors of Negombo sea street this evening. Next day you'll drive 2.5 hours to visit Dambulla cave temple and 30 minutes more to arrive in your resort in Sigiriya. On the next day you'll drive 2.5 hours to Kandy. You'll visit a spice demonstration garden, attend a cultural show in Kandy and visit the temple of temple of tooth relic. Next day you'll drive 3 hours to Nuwara Eliya. You'll visit Ramboda waterfall and a tea processing center on the way. Next day you'll take a scenic train ride of 3 hours to arrive in Ella and explore the beautiful city. You'll climb little Adam's peak and trek down to Demodara railway bridge. Next day morning you'll drive 1 hour to visit Buduruwagala ancient temple and drive 1.5 hours more to arrive in Tissamaharama to do an exciting safari game drive in Yala National Park. Next is your beach day in the South of Sri Lanka. Your departure transfer from the south beach would be approximately 2.5-3 hours.
This private tour includes accommodation as detailed in the price breakdown, private vehicle and English-speaking driver with industry experience, guiding in historical sites, clock round back office service, toll payments and parking and vehicle entrance tickets to any site.
This private tour does not include guests' entrance tickets to the sites, third party vehicles (safari jeeps, taxi, train, etc…) and additional visits not agreed on the contract, driving after 06.00 PM unless specified on the agreement, mileage above the quoted mileage from airport to airport and tip to the chauffeur guide or the driver, which is traditionally payable.
The vehicle can only take you up to the last possible point in case your hotels are located in difficult terrain.
The hotels are subject to availability.
Extensions and compliments
All the tanneries are customizable according to your tastes and dates. Compliments will always be a surprise!
Once you have selected the itinerary you like or simply without an idea, send us your inquiry using the inquiry form.
We will help you to customize the itinerary to suit your ideas and budget. Then we will do a final budget and share with you.
We will then create a service level agreement (SLA) with all details precisely mentioned including the cancellation policy. Both parties will digitally sign the SLA and the procedure will be complete.
You can make a direct bank transfer to our official bank account 31 days prior to the date of arrival. Payment receipts will be emailed to you upon bank confirmation of the receipt of funds.
Transfer changes shall be borne by the payer and the amount received at the bank as per the remittance note will be accepted as the payment.
We can consider accepting on arrival cash payments for transport services on special request of the guests.
Date 
Visits

 

Hotel
Meal plan
Day 1
Airport / Negombo
Goldi Sands Hotel
HB
Day 2
Negombo / Dambulla / Sigiriya
Camellia resort and Spa
HB
Day 3
Sigiriya /Spice garden / Kandy
Hotel Suisse
HB
Day 4
Kandy / Ramboda Falls / Tea processing center / Nuwara Eliya
Hill Club
BB
Day 5
Nuwara Eliya / Ella
Flower Garden
HB
Day 6
Ella / Buduruwagala / (Tissamaharama) Yala
Ekho Safari
HB
Day 7
Yala / Mirissa
Paradise Beach Club
HB
Day 8
Mirissa / Airport
–
–
Included: Hotel accommodation on HB, double sharing basis per couple (two PAX), Private transport

Not included: Activity costs, Entrance tickets, Tips, any other expenses
Ask for more information about this tour
Traveli Ceylon is the exclusive inbound tour operator with a team of passionate destination experts continuously striving to make the best Sri Lanka experience to the travel world!
To the world of travel and tourism .
We are an inbound tour operator (ITO) in Sri Lanka with abundant experience handling tours in Sri Lanka for many travelers from countries including Germany, France, Sweden, Spain, Portugal, Mexico India and United Arab Emirates.
We bring together accommodation, tours, transport, activities and meals to create fully inclusive itineraries or provide these services separately for the convenience of travelers visiting Sri Lanka for both business and holiday purposes.
We work directly with selected hotel chains, standalone boutique hotels and all other types of accommodation units available in Sri Lanka and recommend the best to our clients.
We have a fleet of exquisite chauffeurs to make round trips around Sri Lanka by cars and commuter vans whilst we work with transport managers to hire busses for group tours.
We have direct links island wide with the organizers of specialty experiences. We organize Safari game drives, authentic dining experiences, walking tours, guided trekking, boat rides and a host of other activates.
We continuously strive to identify new partners with better quality and competitive price on behalf of the travelers who reach us to book their Sri Lanka experience.