Sri Lankan cuisine has taken its shape by many historical, cultural and other factors. Foreign trading through its ancient ports, cultural influences from neibouring countries as well as the local traditions of the local ethnic groups among other things have influenced Sri Lankan cuisine.
Chronicles are evident that Sri Lanka has produced rice and Spices as well as exported them through the harbors during the 11th Century.  The staple food of Sri Lanka even today is rice. Coconut milk and a mixture of spices are always used to make the gravies that go along with rice.
Tourism has attracted all types of restaurants to the main towns of Sri Lanka. Chinese, Thai and Japanese restaurants are plenty whereas almost all the menus include several Western dishes along the typical Sri Lankan dishes. Nowadays it is also trendy that you get very good quality local restaurants serving rice and curry to cater the demand from the tourists to taste local food.
Curry accompanies the dishes of meat, vegetables or fish. Number of spices, all roasted and then stone-ground come together to prepare these curries. Coconut milk forms the base of this curry. Fresh herbs and garnishes flavour these curries. Basic items like chicken, beef, mutton, eggs or vegetables are cooked in a thick sauce of coconut milk with all the ingredient spices. There is plenty of variety in fish curries across the region. The Sri Lankans have their own distinctive style of preparing fish curries. Southern ambul thiyal or sour fish curry is very famous. Vegetarian curries are prepared vastly available fruits and vegetables like brinjals, beans, beetroot, carrot, banana flower, pumpkin etc. Curries in Sri Lanka are very hot. However, adjustments are made to suit the foreign palate. Ingredients of curries include chilli powder, fresh chillies, cinnamon, tumeric, curry powder, curry leaves, onions, garlic, ginger and coconut milk.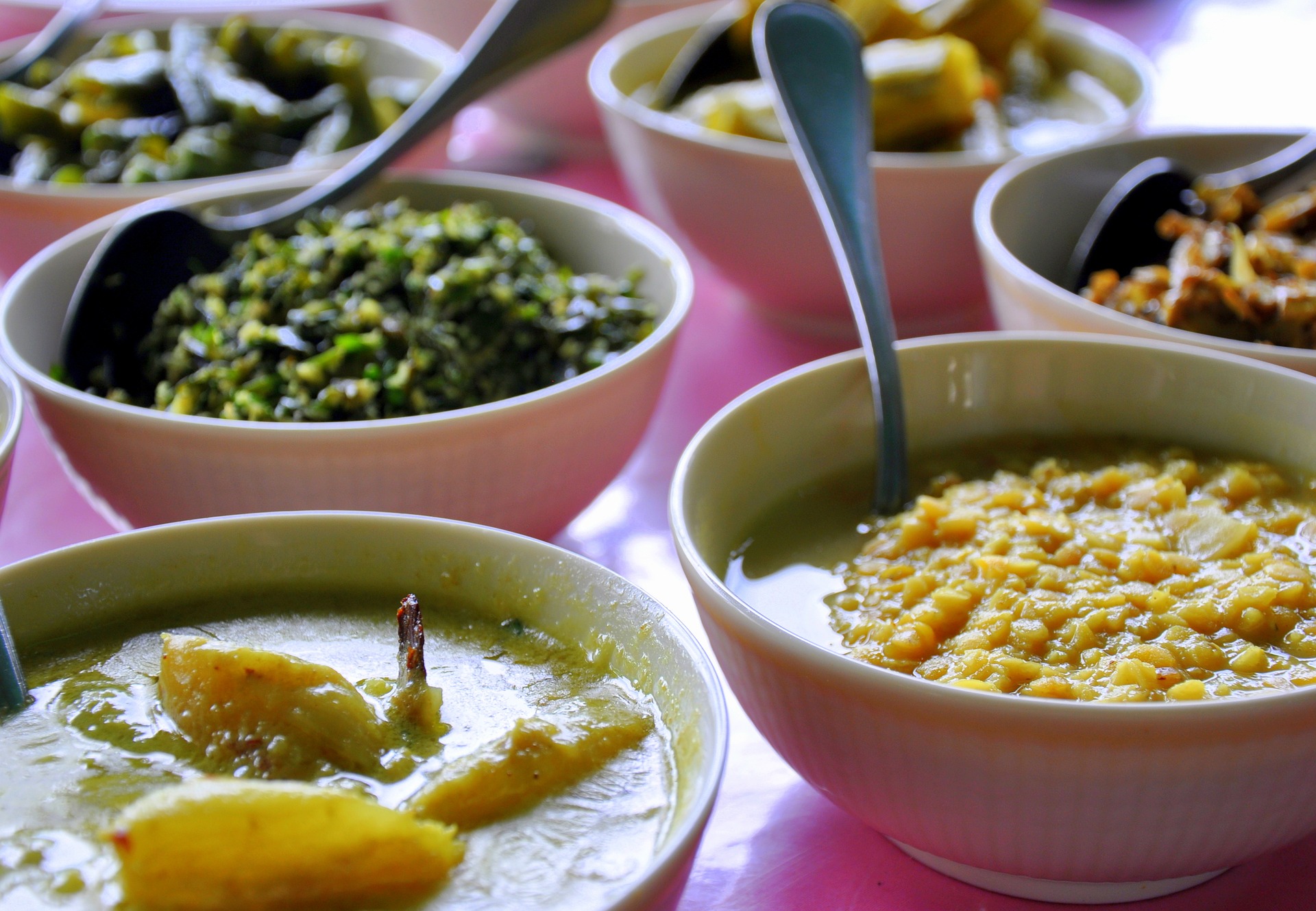 Sri Lanka is among the topmost producers of tea in the world. Usually, it is consumed with sugar and milk. Some people are fond of taking 'plain tea' which means tea only with sugar and without milk. Crushed ginger can add more flavour to the tea. Dilmah tea by the sea has tea cocktails if you like fusions.
The Sri Lankans also like to have coffee. Colombo, Negombo and Kandy are popular places to enjoy really good espresso. Coffee bean and Tea leaf, Barista, Java lounge, Heladiv tea club are very popular coffee shops.
People also like drinking water of young coconut and matured King coconut. Cut fresh they are delicious and nutritious too.
An array of locally produced and imported beers are also available and Lion larger is the popular Sri Lankan brand. Two local intoxicating drinks are Toddy and Arrack. Toddy is made out of palm trees while Arrack is fermented and refined toddy of Palmyra and Coconut.
Indigenous cold drinks in Sri Lanka are made of fresh fruits like Mango, Papaya, Pineapple, Wood apple, etc. Bottled carbonated branded drinks like Coca-Cola, Sprite, Fanta etc. are also widely available. Ginger Beer is a popular local carbonated nonalcoholic drink made with Ginger.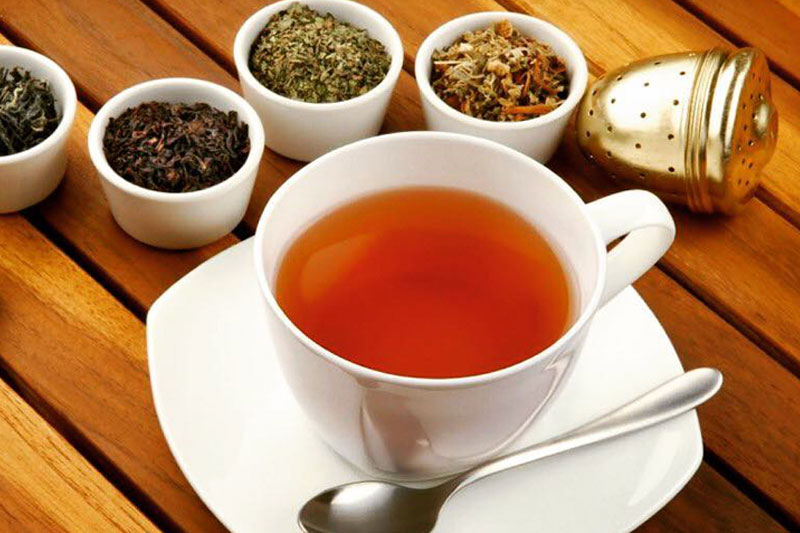 Rice is the staple food of the Sri Lankans.  Samba and Nadu are the most common varieties of rice in Sri Lanka in present. The farmers also grow a limited quantity of traditional rice and these varieties are highly regarded among the locals.
Kalu Heenati, Murungakayan, Kuruwee, Gonabaru, and Suwandel, a rare fragrant type of white rice are some of the popular traditional varieties.
On festivals yellow rice is cooked on the base of coconut milk and delicately flavored by spices. Kiribath or milk-rice is a popular festive dish.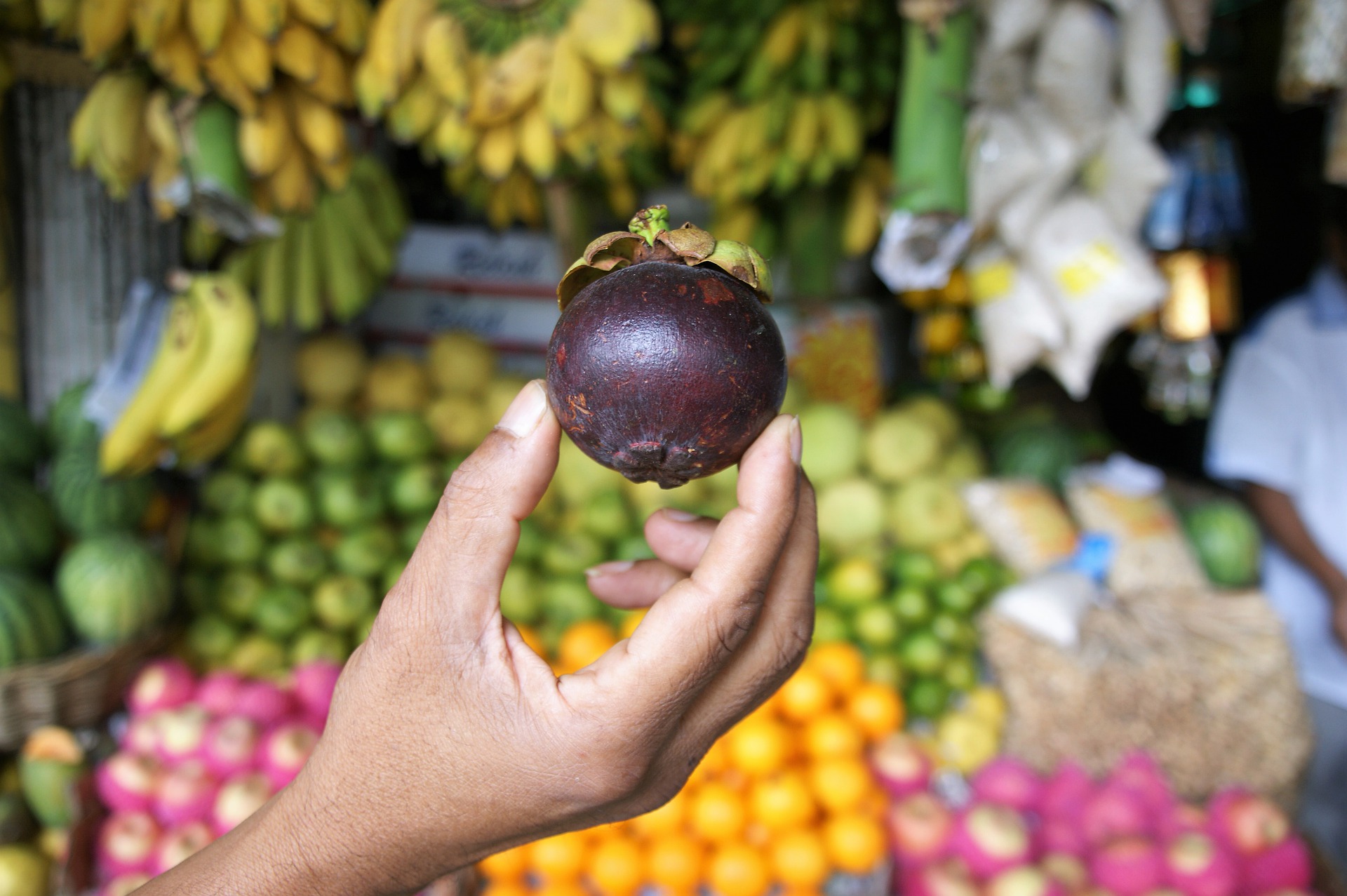 Sri Lanka has a whole host of fruits and some are still relatively unknown worldwide. You will come across in plenty of freshly harvested Mangoes, Pineapples, Watermelons, Papayas, Wood apples, Bananas, Avacados, Sweet Amla, Guava, Pomegranate, Dragon fruit, Passion fruit and even Durian as you move along the roads.
You might also come across Rambutan, a glistening lychee-like fruit covered in a fussy shell with a sour sweet taste.
Naminam hangs off the bark of a medium sized tree, it has a sharp, sour tang. Perhaps because of their odd appearance markets don't tend to stock these. More likely to be in someone's yard.
Uguressa is a popular fruit among locals with a smoky sweetness and antioxidant qualities. Take one of the marble-sized berries and lay it flat on your palm to gently roll it between your palms before eating to enhance the taste.
Jackfruit has that distinct sweet smell. The trees are very large with large leaves as well. The fruits are also tree-borne. Jackfruit fruits can grow as large as a baby bath tub
The Jambu or "wax fruit" is also known in Sri Lanka for its delicious mild taste and crisp texture. It has a distinct taste like an apple but a little milder and with a hint of rosewater.
Anoda or Soursop is commonly used by the locals to make a very healthy drink, the fruit has edible soft flesh which is grainy, sweet and sour.
The Mangosteen is a segmented fruit contained in a purple rind. It's known as one of the tastiest Sri Lankan fruits. It has immune system-boosting qualities, and is used to make health drinks, tablets and powders. The rind can also be steeped in water to make tea.
Velvet Tamarind, The pod-like fruit of the tamarind tree can be found littering the ground across Sri Lanka. Unripe tamarind is used in savory recipes like pickles, and the ripe fruit is used in sauces, snacks, juices and jams worldwide.
Ceylon olive, Ceylon gooseberry and Weera are some of endemic fruits among many others which will demand an effort to find out there in the neighborhood which you shall not miss to taste if you come across by any chance.
People of coastal towns consume delicious fresh fish with prawsn, crabs and lobsters. Fried fish is eaten with chips and salad while fish curry is taken with rice. Sour fish curry is a popular dish of southern Sri Lanka. Tuna, seer and para fish are very popular among the natives of Sri Lanka.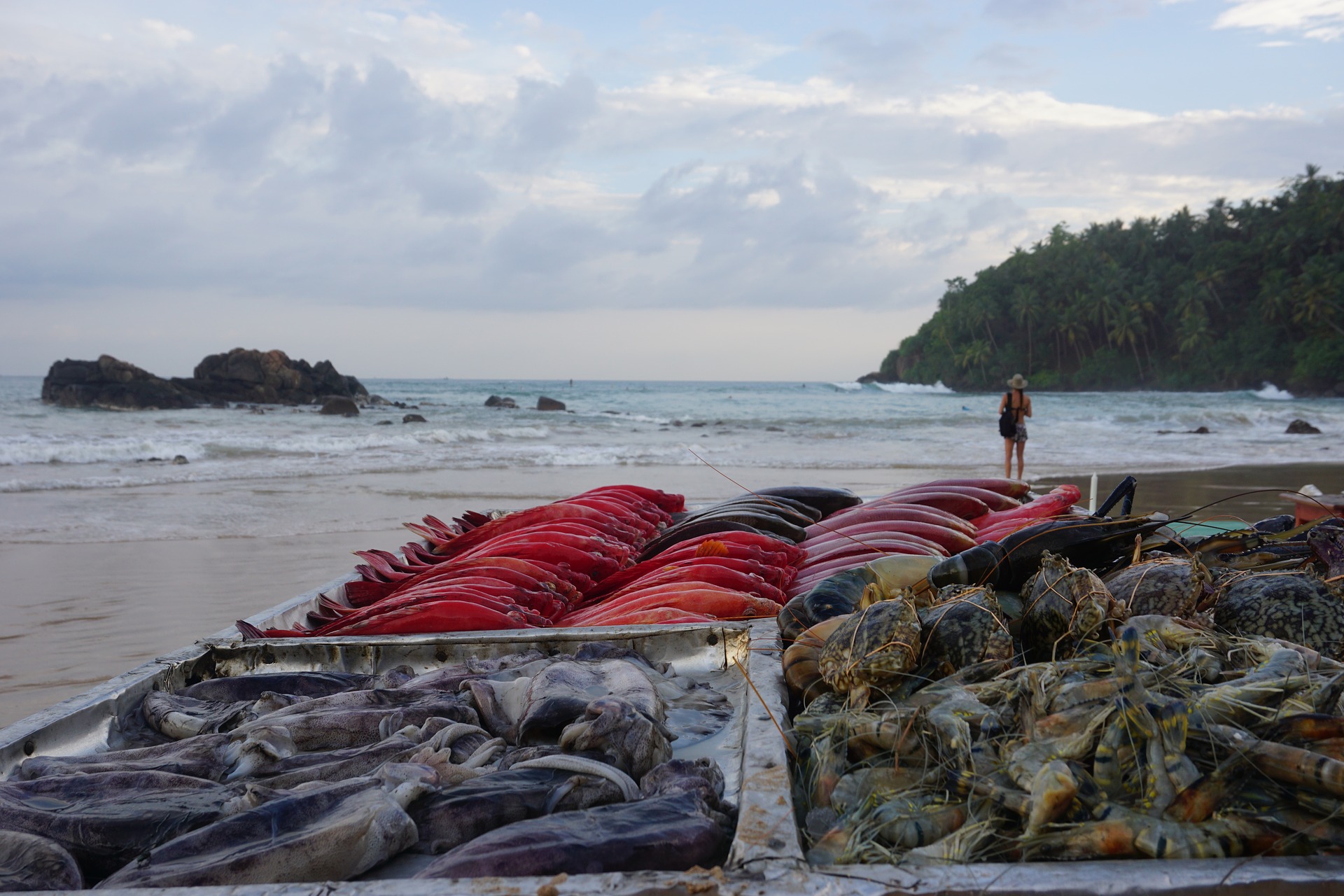 Watalappam and Buffalo curd served with treacle are perennial desserts in Sri Lanka. Watalappam is a delicious baked custard made of jaggery, eggs and coconut milk with a liberal dose of cardamom and cloves. The thin golden brown film on top is by itself a delight. The treacle is made from pure sap from the Kitul palm tree (Caryota urens)  boiled down to a sweet, dark brown syrup, thick and sweet in flavour, with a taste resembling dates with a slight hint of caramel.
Palm jaggery is always served with hot teas without sugar. Locals taste jaggery with milk rise too. The best of the jiggery is made from Kithul palm sap and melts in the mouth sweetening the taste buds. It is not industrially processed hence hard to come by. Jaggery made of the coconut palm (Cocos nucifera) is a good substitute, however not the same as that of the Kitul palm tree.
Kavum is a battercake made of ground rice and treacle. Halape is a blending of coconut, jaggery and floor. Thalaguli is a confectionary ball.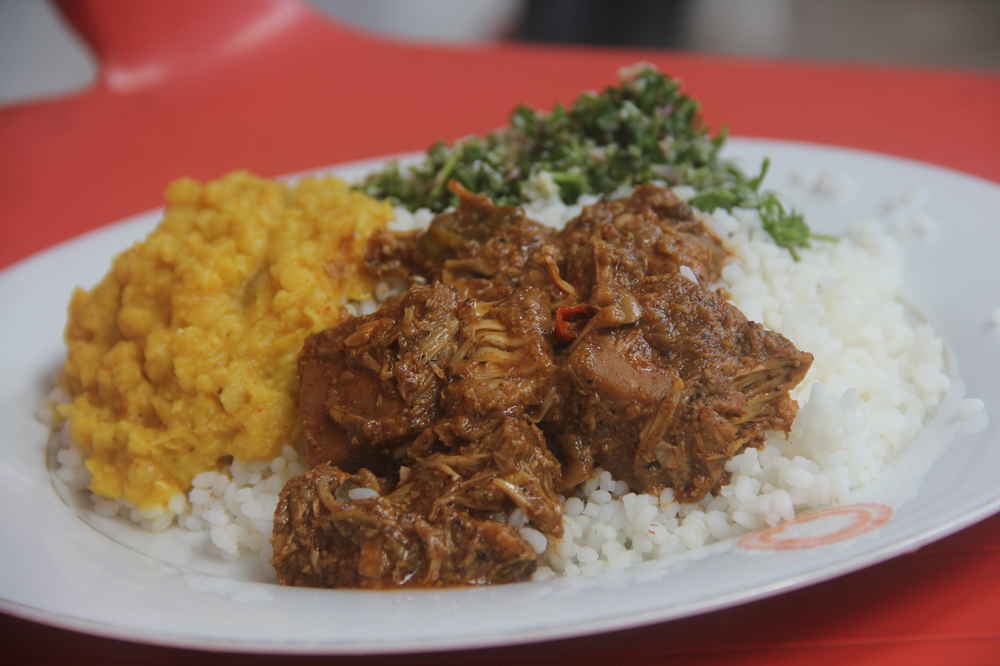 Mallung is fondly eaten with curries. Prepared from finely shredded green vegetables and dried shrimps, it is mingled with grated coconut and spices. Sambol is a spicy hot dish. Pol Symbol is a simple combination of grated coconut, onions, red pepper, lime and salt. Seeni Sambol is a juicy combination of Maldive fish preserve and spicy onion. The Sri Lankans are fond of eating wafers, pickles and chutneys with their food. Lamprais is a dish with unique flavour. Plenty of ingredients including curries, cutlets, sambols, special prawn paste, eggplant curry and rice are kept together in a banana leaf and baked. Buriyani is rice cooked in meat stock. Polos Pehi is a dish made of the tender fruit of the jak tree. Several juicy sweetmeats are also part of the island's cuisine. Scrunchy sandwiches, delicious biscuits, potato chips and sausages are used as snacks by the Sri Lankans.